August 9th, 2009
Courtesy of Environmental News Network and written by Zaher Karp of the Matter Network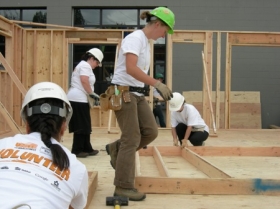 The partnership between a home improvement company and a shelter provider might seem simple, but the plans that two established organizations have now are far from cut and dry. A $30 million green building program is going national, funded by the Home Depot Foundation, and plans to build 5,000 efficient homes over the next five years.
Habitat for Humanity and the Home Depot Foundation started a pilot last year through 30 affiliates that resulted in 260 sustainable homes. The Partners in Sustainable Building program began there, and is now poised to break into the national sphere.
Some of the homes were even certified to LEED Platinum, which resulted in nearly 50 percent energy savings in some cases. During the pilot, which according to Habitat for Humanity CEO Jonathan Reckford was "extremely successful," early results yielded 15 to 30 percent energy savings.
At the end of August, over 120 Habitat for Humanity affiliates will participate in the national rollout across 45 states. Affiliates will receive grants depending on certifications that structures attain– $3,000 for Energy Star guidelines and up to $5,000 for other nationally recognized standards.
Habitat expects nearly 1,500 homes to be built between the August start and the end of 2010. Some of the certifications mentioned by Reckford were the National Association of Home Builders standard, LEED, EarthCraft and Enterprise Green Communities.
Retrofitting has been an emphasis by administration recently, citing green jobs and efficiency, though Habitat is meeting an ever-expanding need for new and innovative construction. These new buildings will be supported by Habitat's network through eight Habitat State Support Organizations (which service 4,400 affiliates) and will be growing in size and host new training sessions to teach green standards.
Out of the 263 homes built in the pilot program, most buildings leaned towards a higher green building level (135) and 128 were certified to the Energy Star guidelines.
Popularity: 11% [?]
March 19th, 2009
Working on green home upgrades or repairs? Giving your yard or garden a green revamp for spring? With the economy being the way it is, many homeowners are tackling home improvement projects themselves to save money. Savvy DIYers save even more money by borrowing tools instead of renting. After all, why buy an expensive piece of equipment you'll have to make room in your garage for — when you'll only use only rarely at best?
Now, tool-borrowing Low Impact Living readers who're ready to roll up their sleeves can save even more money on their home improvement project — by entering the "What's Your Pro Project?" contest to win a $200 gift certificate to Home Depot!
To enter, just visit the Home Depot Tool Rental site and pick out a tool you'd borrow for your green home improvement project. Then leave a comment on this post, letting us know what green project you plan to tackle in or around your home this year — and with what borrowed tool.
Since Home Depot lets you rent more than 325 types of professional tools at more than 1,200 Tool Rental Centers, you can pick from a very wide variety of home, garden, or yard projects. Let your ecomagination be your guide!
Start planning your project now — and leave your comment by the end of the day on Sunday, March 28. We at Low Impact Living will then select the most interesting project lined up for the year — and award the $200 gift certificate to one luck Low Impact Living reader. Good luck!
Popularity: 5% [?]